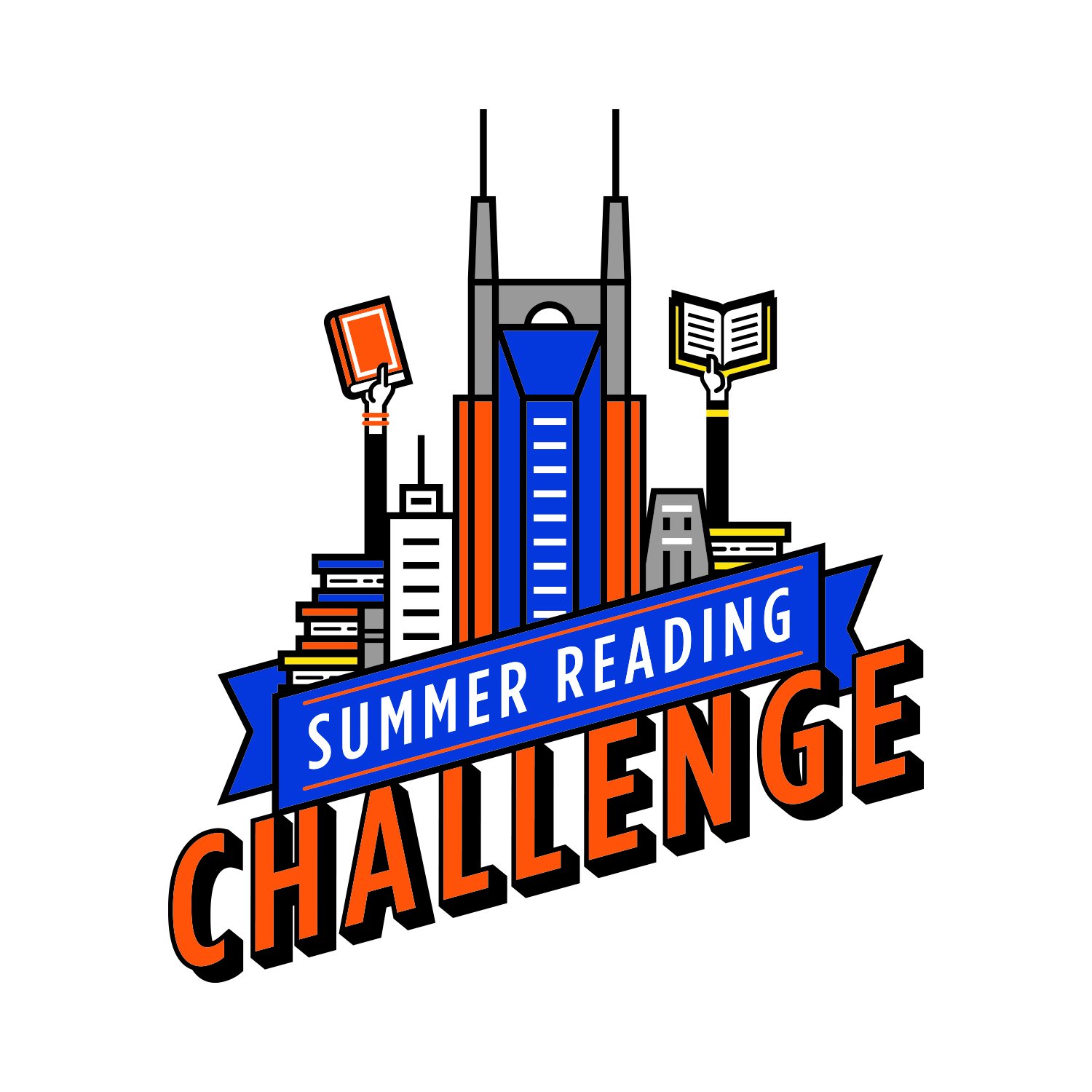 The Challenge Launches Today and Runs Through August 21
Nashville is a city all about play.
Whether it's the music you hear in studios on Music Row and in honky tonks along Broadway, kids discovering new things in Nashville's art and science museums, or teens expressing their creativity in spoken word classes and makerspaces, Music City is a place that fosters many forms of play.
And one thing that play fosters, whether people realize it or not, is reading. At Nashville Public Library (NPL), we're inviting you to discover that fact for yourself during our annual Summer Reading Challenge.
What Do We Mean by "Press Play?"
Our theme for this year's Challenge, "Press Play," simply means this: engage in reading and literacy, however you choose to do so.
"When people hear 'reading,' what may come to mind is sitting somewhere quiet and reading a book for a few hours. There's nothing wrong with that, but literacy goes way beyond just reading books," said Cassandra "Cassie" Welch, a Children's Librarian at our Edmondson Pike location, and the Coordinator for the Summer Reading Challenge. "What we want people to realize is that there's more than one way to engage in reading and literacy, that it's not just something for kids to do, and that they can use the Summer Reading Challenge to reward themselves for what they're already doing every day."
How You Can "Press Play"
For this year's Challenge, the drive is simple: "Press Play" your way.
You're never too old to engage in reading and learning, and the Summer Reading Challenge is most definitely not a "for kids only" event. The Challenge is for everyone.
For adults, that might mean reading the historic markers during a morning jog, or logging the time spent perusing email at work. For teens, that could be the time spent writing a song or playing a session of Dungeons & Dragons with friends. Kiddos and toddlers can absolutely count the time they spend playing, singing songs, and telling stories to their parents, friends, and classmates.
Of course, if you prefer just cuddling up with a good old fashioned print book and reading for a few hours, we're always happy to count that, too.
There's no wrong way to "Press Play," and there's no wrong way to engage in reading and literacy during the Summer Reading Challenge.
 
Start Playing Today
Getting started with the Challenge is simple. Visit the library's website to register. From there, you can print a reading log or track your minutes online. 
Once you hit 600 minutes, head to any of our in-person or curbside locations to receive a cool prize. Babies and toddlers get an egg shaker, kids get a kazoo (with a bonus prize for caregivers), while teens and adults get a phone charging cable that fits both Android and Apple phones.
Six hundred minutes is all you need to complete the challenge, but you don't have to stop there. Continuing on to 1,200 and then 1,800 minutes nets free coupons for ice cream, coffee, and more at local businesses around Nashville.
And please: don't feel like you have to log your minutes the second you stop reading or playing. You can tally them up at the end of the day, the week, the month, or however you choose. And don't worry if you can't register today — you can register any time between now and August 21, and log any minutes you've racked up since May 3.
"We recognize that it can be bothersome to log minutes as soon as you're done reading, especially for parents and caregivers with little ones," Welch said. "That's why we don't want this to be a formal, by-the-rules contest. We want everyone to approach it their way, at their pace, and have fun while they 'Press Play.' "
Show Us How You "Press Play"
What we love most at NPL is seeing our library visitors discover their love of reading in whatever form that takes, and we'd love to see how you "Press Play" during the Summer Reading Challenge. So, please: share your favorite moments and new discoveries on our social media channels using the hashtag #nplsummer.
Plus — in the coming weeks, we'll be sharing some insights from our NPL staff that illustrate even more ways that you can "Press Play" your way, whatever your age! We'll share ideas geared specifically towards each age group: babies and toddlers, kids, teens, and adults. Stay tuned to our website and social media channels for more.
Summer Reading Challenge 2021 is made possible by the Nashville Public Library Foundation, with support from our participating businesses: Arby's, Fazoli's, Nashville SC, Qdoba, Vanderbilt Athletics, and Wendy's.
Section
Genre / Topics
Age Groups