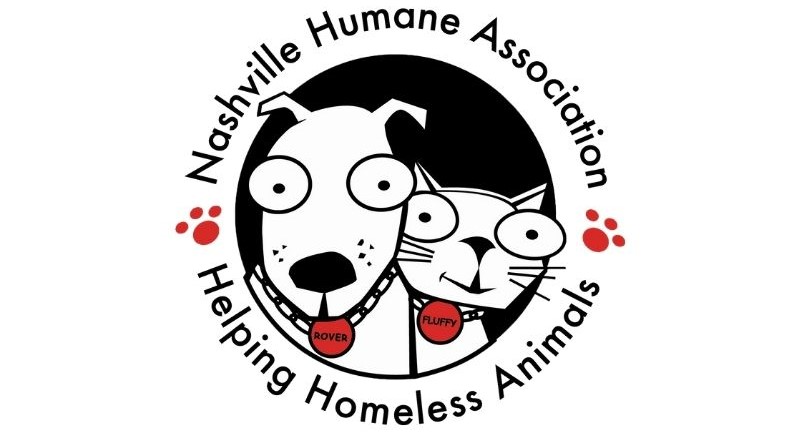 Help Support Nashville's Shelter Pets Through the Summer Reading Challenge
For years, Nashville Public Library (NPL) has issued a simple call to launch our Summer Reading Challenge: "Read; track your minutes; earn free prizes."
But this year, things are different. Because this year, Summer Reading = Summer Giving.
As we read to support three great Nashville nonprofits, we invite you to learn more about our community partners and the great work they do.
Today, we're taking a deeper look at Nashville Humane Association (NHA), which helps shelter animals find loving, "forever homes."
A Ball Everywhere She Goes
The thing to know about Rue is that she has a ball everywhere she goes — literally and figuratively.
When she's lounging, when she's eating, and even when she's sleeping, Rue always has her favorite ball on-hand. She's always ready to play and share her joy.
And now, this spunky, black pitbull mix is ready to spread that joy to a new family and a new group of best friends. Because, just a few short weeks ago, Rue was finally adopted.
For Taylor Spreitler, it was an especially joyous occasion. Because, for a long time, no one was sure it would happen.
"She was having a very hard time getting adopted. Being in the shelter was stressing her out. I took her home with me over the weekend to try and help her. We had a 'sleepover,' and you could just see how it cheered her up so much," Taylor said. "She's just this beautiful thing you can't help but love. When she was adopted, it just reminded me of why I do what I do, and how much it means."
A Home Where Homes are Found
Moments like this are what Taylor works for: to see a furry friend adopted into what the staff at NHA hope will be a loving, permanent home.
Beginning as a volunteer with NHA, Taylor joined the Association full-time roughly two years ago. Today, she serves as one of NHA's Foster Coordinators, helping adoptable pets stay healthy and happy while they wait to get adopted.
It might sound simple. It's anything but.
"Shelters are facing something of a crisis right now. They're having a hard time keeping pets in homes. People are just dumping their pets at shelters without any warning or coordination. We work with about 4,000 pets each year, and there are always more pets than there are adopters," Taylor said.
The challenges facing NHA and the shelters they work with reflect what's happening across the country. Every year, approximately 27 million puppies and kittens are born in the U.S., according to the World Animal Foundation. And every year, approximately 6.3 million pets enter shelters. Only about 3.2 million of them — 51% — will be adopted. One and a half million of them will be euthanized.
Despite the challenges, Taylor and her teammates are committed to making sure stats like that don't reflect Nashville.
And they've been doing it — with resounding success — for nearly 80 years.
Serving Nashville's Furry Friends
Nashville Humane Association's mission, since 1946, has been a simple, but important one: serve as a safe haven for homeless and shelter pets while they wait to get adopted.
Through an array of programs, NHA staff and volunteers connect with shelters, potential adopters, and pet-owners to provide education, material and crisis support, medical care, and more.
While there are other nonprofits with similar missions out there, Taylor firmly believes that few approach pet care the same way NHA does.
"The level of care here is what continues to amaze me. From our administrators to our medical team to our volunteers, every single person here truly cares about these animals. Our medical team is especially amazing. They make sure every pet is cared for, vaccinated and microchipped before they walk out the door," Taylor said.
That combination of care and dedication has yielded tremendous results for Nashville's shelter pets. In 2022, NHA helped 3,604 pets get adopted; assisted with the rescue of 263 pets from abusive situations; provided assistance to 5,404 pets and 3,186 families through the Safety Net program; distributed more than 19 tons of pet food; and, for the fifth consecutive year, celebrated a save rate — the rate that animals entering shelters aren't euthanized — of 99%.
And they know there's still more they can do. Soon, NHA will launch a new, volunteer driven program — Rescue Readers, where volunteers read to a pet in NHA's care to bring them comfort and companionship.
And for anyone who wants to help — through adoption, volunteering, or donating — Taylor has a very simple message.
"We're always ready — just come on down!"
Invest in NHA and Shelter Animals Through the Summer Reading Challenge
Whether you're in a position to give a loving home to an animal or not, you can help NHA make a difference by participating in our Summer Reading Challenge.
For every 15 days you log reading, you earn a vote to cast for three of our partner nonprofits — including NHA — to receive a share of a $9,000 donation.
But time's short: there are only 47 days left until we wrap up the Challenge on July 31. So if you haven't signed up yet, now's the perfect time.
And mark your calendar now for Tuesday, July 11, when NHA will be coming to our Hermitage Branch Library with some lovable, huggable, and fully adoptable puppies!
Section
Genre / Topics
Age Groups