Bringing Books to Life
Bringing Books to Life (BBTL) is an early literacy initiative that emphasizes the importance of developing literacy skills by educating teachers, children, and parents.
Partner with BBTL
Become a BBTL partner site! Partners receive classroom activity kits, books for their classrooms, special interactive story times, priority Puppet Truck scheduling, and customized support from BBTL's team of educators. Any early childhood education program in Davidson County is eligible. Contact us to learn more about how we can help you!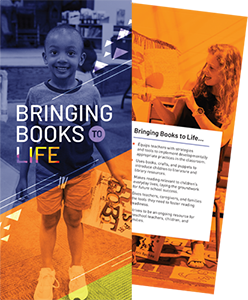 BBTL staff provide a fun-filled story time in the classroom. Wishing Chair Productions performing artists present a puppet show at your location.
Specifically designed to support parents, these workshops discuss how to develop early literacy skills in the home. Each family receives free gifts to take home.
Become a partner site by completing in-service trainings. Continue learning with ongoing professional development trainings.
Thank You to Our Sponsors

Prevention is Key Foundation
Sandra Schatten Foundation
Willard R. and Frances J. Hendrix Foundation